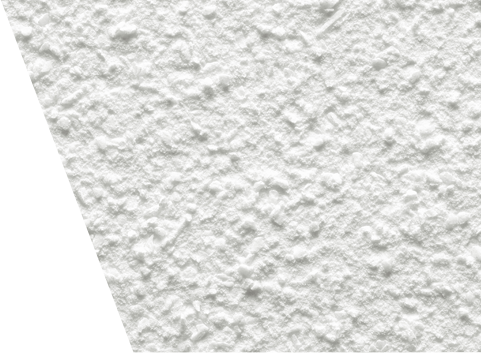 Typical Product Characteristics
for Aluminium Di-stearate
Ash content: 8.0 – 11.0 %
Free fatty acid: 3.0 – 10.0 %
Moisture: Max. 1.0 %
Melting point: 150 – 160 °C
Typical Product Characteristics
for Aluminium Tri-stearate
Ash content: 7.0 – 9.0 %
Free fatty acid: 12.0 – 18.0 %
Moisture: Max. 1.0 %
Melting point: 125 – 140 °C
There are multiple types of aluminum stearates, generally classified as aluminum mono-, di-, and tri-stearate. They vary in terms of physical properties such as melting point, free fatty acids, and particularly the gelling properties.
Oils with a low viscosity are best thickened by aluminum di- and tri-stearate, whilst very viscous oils from stiffer gel when combined with aluminum mono- or di-stearates.
All aluminum stearates are highly hydrophobic, and feature outstanding transparency and excellent adhesion to metal surfaces. Due to their water repellency, aluminum di- and tri-stearate are used as hydrophobic agents in the building industry.
| Trade Name | Applications | Product Form |
| --- | --- | --- |
| ALUGEL 34 TH | Grease | Powder |
| ALUGEL 30 DF | Grease | Powder |
| ALUGEL 30 HEP | Cosmetics | Powder |