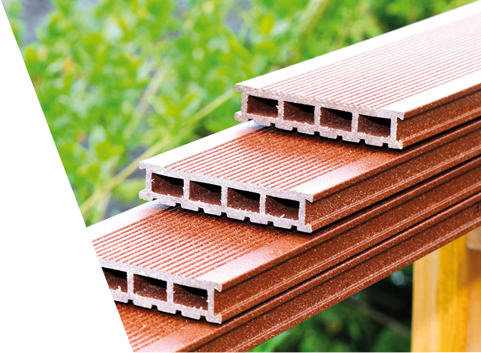 Advantages
Finished product has a lower water absorption
Reduced power consumption
Improved extruder output
Reduced processing temperature
Increased melt strength
Prevention of edge tearing
Wood Plastic Composites (WPC) comprise a broad range of melt-processable composite materials that contain varying quantities of plastics, fillers and wood fibers, or other types of natural fibers.
The material has exceptional mechanical properties, high dimensional stability, and supports the manufacture of complex profiles.
WPC based on polyolefins (HDPE, PP) are typically processed by means of direct extrusion and injection molding, while PVC-based WPC are processed using direct extrusion, co-extrusion or pressing technology.
Baerlocher offers an extensive portfolio of additives for the extrusion of wood-polyethylene and wood-polypropylene composites.
The BAEROLUB range of one-pack lubricant systems was developed to make extruded profiles easier to process, and to improve the quality of their surface.