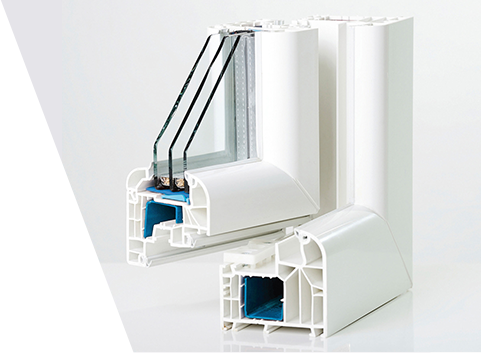 Advantages
Excellent processing
Excellent heat stability
Excellent weatherability and impact resistance
Excellent initial color and color fastness
Excellent plate-out properties
Producing the exact colors specified is a key quality criterion in the manufacture of white window profiles. To this end, Baerlocher has developed stabilizer/lubricant one packs with outstanding dynamic thermal stability.
All Baerlocher stabilizers support the required UV resistance for windows.
PVC has demonstrated its versatility as a raw material for the production of general technical profiles and window profiles inparticular, and enables a multitude of construction and design possibilities.
PVC offers excellent environmentally friendly qualities, and inherent structural and design advantages over other materials, including weather and impact resistance, excellent heat insulation and noise protection, long service life and low maintenance costs. The fact that PVC can be recycled several times over helps improving the ecological footprint. Important applications are window profiles and frames, cladding profiles, roller shutters, electrical conduits and roofing systems.
White Window Profiles
Coloured Window Profiles
Coextruded Window Profiles
Rainwater Gutters
Roller Shutters
Cable Duct
Furniture Trim
Floor Boards
Sidings
General Purpose Building Profiles
Transparent Profiles
Foamed Profiles (free foam or celuka)
Coextruded Foam Profiles