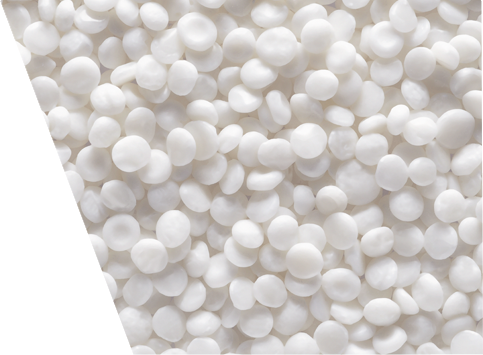 Typical Product Characteristics
Ash content: 12.8 – 14.2 %
Free fatty acid: Max. 1.5 %
Moisture: Max. 0.5 %
Melting point: 118 – 125 °C
In comparison to other metallic stearates, zinc stearate has a low melting point (120°C) – meaning it spreads very evenly when heated.
Zinc stearate is mainly used in the plastics and rubber industries, where it is used as a lubricant and release or powdering agent. Zinc stearate functions as an acid scavenger and processing aid in certain polyolefin applications. In addition, it improves the abrasiveness of sandpapers, and acts as a matting agent in paints and coatings. In construction, powdered zinc stearate is utilized as hydrophobic agents for plasters.
Zinc stearates are available in various product forms - as powder or low-dust products – and as derivatives from animal or vegetable raw materials.
| Trade Name | Applications | Product Form |
| --- | --- | --- |
| ZINCUM 5 | SMC/BMC, EPS, Building Industry, Rubber, Modeling Clay, Tube Drawing | Very fine powder |
| ZINCUM PS | Polystyrene, EPS, Rubber | Fine powder |
| ZINCUM SP PRILLS | Polyethylene, Rubber | Low dusting sprayed granules |
| ZINCUM SMS | Polyethylene, Rubber | Very low dusting flakes |
| ZINCUM T | Polyethylene, Rubber, Paper Industry | Powder |
| ZINCUM TX | Polyethylene, Polystyrene | Very low dusting pastilles |
| ZINCUM N 37 SL | Sanding Paper, Paints | Very fine powder |
| ZINCUM BE | Tube Drawing | Very fine powder |
| ZINKLAURAT TECHN. R.G. | Building Industry | Very fine powder |