06/06/2023
Our Group CEO Arne Schulle participated in the renowned Annual Conference of Handelsblatt ''Chemical Industry 2023'' as a speaker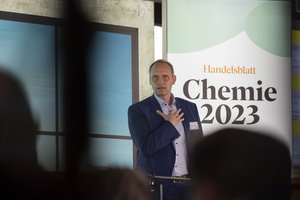 In April our Group CEO Arne Schulle participated in the renowned Annual Conference of Handelsblatt ''Chemical Industry 2023'' in Düsseldorf as a speaker. In front of leading heads of German industry and politics, he gave a very well-received presentation, sharing the view of Baerlocher as representative of the so-called "upper medium-sized companies" under the headline:
German Medium - Sized Companies- Resilient & Entrepreneurial
In high demand or discontinued model in times of multiple transformations?
In his speech, Arne Schulle outlined the orientation of Baerlocher regarding the chances and challenges in view of sustainable corporate development.
CEOs of large-sized, stock exchange-listed companies participating in the conference emphasized the challenges regarding the competitiveness of Germany, i.e. the high energy costs or an allegedly misdirected energy and investment policy in our region - in comparison to the USA or locations in Asia.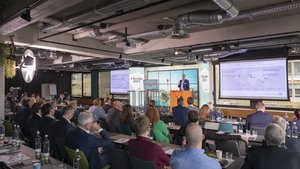 Arne Schulle added to these presentations by giving an overall strategic view from the standpoint of a medium-sized company and the perspective of a family business in the third generation.
The European Green Deal is thought to be leading to the largest transformation the European industry has encountered since the times of the industrial revolution, which is why Arne Schulle highlighted in his presentation topics such as the transition to the circular economy, the sustainable deployment of chemicals, as well as CO2-neutrality and taxonomy.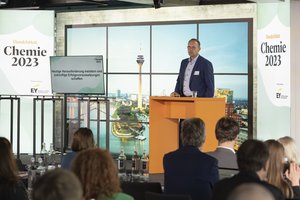 Giving the example of a significantly rising demand worldwide for polymers in the next decades, which will have a large stake in mechanical and chemical recycling, Arne Schulle described the goals and successes of Baerlocher with the view to continue to have an active role in the systematic transformation of the industries, we are active in. At the same time, he warned the audience of increasingly excessive regulation, which can, as he stated, at times be counterproductive.
A lively discussion ensued in the panel discussion, in which our CEO took part, together with Dr. Christian Hartel (CEO of Wacker Chemie) and Ms. Anne-Katrin Hagel (Director Sustainability Solutions at ENGIE Impact).