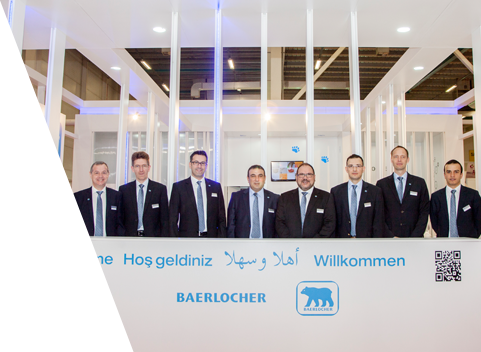 Baerlocher's new look at the Plast Eurasia
The Plast Eurasia, the most important trade fair for the plastics industry in the Eurasian region, took place in Istanbul from December 4-7.
For Baerlocher, the fair was a highlight to mark a new era in the region and the company presented itself with an own booth, which was a true eye-catcher due to its stylish and creative design.
The customers were welcomed and served by the local Baerlocher staff as well as by colleagues from Germany and Italy. Representatives of the Global Management Committee of Baerlocher visited the booth to meet with key partners and customers.
The main discussion topic of interest among customers from Turkey, the Middle East and Russia was that the new production plant in Akhisar, about 100 kilometers northeast of Izmir, will go on stream early 2015.
"With the opening of our plant in Turkey, we increase customer intimacy as well as delivery capacity and supply not only in the country, but within the entire Eurasian region", said Mustafa Ataman, Managing Director of Baerlocher Kimya in Istanbul. "With this move, we implement our philosophy of thinking global but acting local – all for the benefit of our customers, helping them to cope with the challenges in their industries."