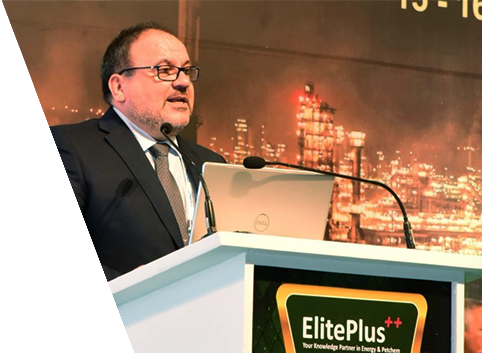 07/19/2019
Vinyl India Conference
Baerlocher Makes a Strong Presence at Record-Breaking
Vinyl India Conference
The ninth Vinyl India Conference, held in Mumbai on April 15th and 16th, set a new attendance record, with more than 900 delegates from 356 organizations and 26 countries.
Like every year, Baerlocher supported the event as a platinum partner. Dr. Shreekant Diwan, Head of Business Development at Baerlocher India and an icon in the Indian vinyl industry, and Rainer Grasmück, served as members of the conference organizing committee.
The two-day conference covered all aspects of the vinyl value chain, from chlor-alkali to EDC-VCM to PVC production, additives, compounding and processing. Speakers also addressed vinyl's various applications and its sustainability properties. The conference featured three interesting panel discussions on voluntary commitments, PE and PVC pipes and Wood Plastic Composites.
In his much-appreciated presentation titled "New Development in Stabilizer Markets – A Global Perspective," Andy Jones, Global Head of Business Unit PVC Additives at Baerlocher, discussed the global trends in stabilizer consumption and how various markets are shifting to sustainable solutions in the form of Ca-based stabilizers.
Jones also confirmed Baerlocher's commitment to the Indian market with a new $30 million investment, which will double the stabilizer production capacity at Baerlocher India's additional new site in Dewas with a modern facility and a new state-of-the-art technical service and product development laboratory.
During the panel discussion on voluntary commitments, Dr. Diwan underscored Baerlocher's commitment to sustainability efforts and its support towards the Indian PVC pipe industry in the transitions to sustainable stabilizer systems.
Dr. Diwan also conducted the traditional "Grand Vinyl Quiz," which has become a major highlight at the conference. Dr. Stefan Fokken, Global Head of Research & Product Development at Baerlocher, again qualified for the elimination round, where the top five scorers were selected to play on Day 2. Dr. Fokken was the runner-up in the final round. In the lucky draw event, Shankar Singh Pal from the R&D laboratory at Baerlocher India, won a trip to the April 2019 Chinaplas exhibition.