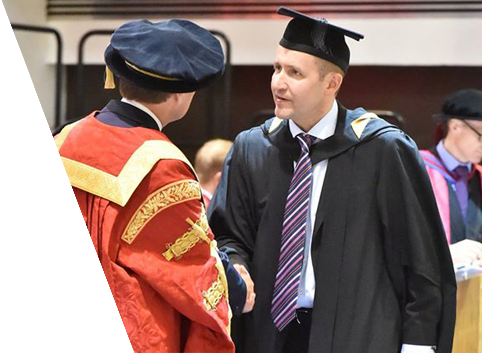 Baerlocher UK supports further training for employees
Through continuous training throughout their careers, employees can develop new professional and personal skills, and contribute more fully to the success of their companies. This only works if the effort is mutually beneficial. For its part, Baerlocher UK actively encourages its employees to expand their professional knowledge.
Graeme Knox has been Operations Director at Baerlocher UK in Bury since September 2013. Graeme joined Baerlocher when manufacturing started in Bury in 1997, initially as Assistant Production Manager, then Site Manager in 2006 and Operations Director in 2013. Among his responsibilities are manufacturing, logistics, administration, quality and site management.
At the recommendation of Executive Chairman, Andy Jones, Graeme pursued a Master of Science in Manufacturing Leadership at Lancaster University Management School and successfully completed the three-year course, graduating in December 2016.
"Long weekends and early starts in the office to both research and complete assignments on time are challenging, but have allowed me to gain an appreciation of the sacrifices required to succeed," Graeme says. "The knowledge I have gained and the skills I have developed will be a great asset on which to call both professionally and personally for many years to come."
"I am confident that Graeme´s ability to add value to the wider Baerlocher Group has been enhanced and we will soon start to see dividends from this," adds Andy Jones, Global Head of Business Unit PVC Additives at Baerlocher. "I am very happy about his success, which was supported by the entire team at Baerlocher UK."